Soitron wants to help hospitals and authorities manage the coronavirus crisis free of charge
Soitron responds to the coronavirus crisis and offers assistance to healthcare facilities and public authorities. Through our partnership with RPA software company UiPath which donates free licenses for software robots to hospitals and public sector institutions until September 2020, Soitron will oversee free implementation and subsequent IT support. The offer is valid for the Czech and Slovak Republics. Software robots, which are able to process very large amounts of data quickly and accurately, can become digital assistants to medical staff and public workers.
The RPA automation software can be used in any repetitive and rules-based process. As a result, it can learn and execute a "robot" or computer software based on algorithms. So-called unattended robots will find widespread use. They can process invoices at the authorities, enter new patients in the healthcare system and predict health consequences for the existing ones.
"Working on the UiPath RPA platform, we are able to put RPA into practice very quickly in hospitals as well as in public administration institutions. Nowadays, repetitive, time-consuming activities without much added value can be delegated to software robots, who can perform complex tasks without interruption and error without the help of artificial intelligence (AI) and machine learning (ML)."


VIKTÓRIA LUKÁČOVÁ BRACJUNOVÁ
Head of Automation and Robotics
Faster application processing and more efficient testing
Due to the pandemics of the new coronavirus, the Social Insurance Company (SP) is currently experiencing a major onslaught in Slovakia as part of applications for family member care (OCR) and for sickness benefits. If the insurance company deployed RPA technology, the process would be automated and significantly accelerated.
Problems are also expected elsewhere – labor offices are preparing for a large increase in citizens' applications for inclusion in their records and for the processing of unemployment benefits. At the moment, everything is handled by officials only by e-mail or mail. Automation can also speed up the processing of applications by companies and sole traders for financial support due to a decrease in revenues under state measures. The implemented algorithm would only submit applications that meet the specified criteria after evaluating the staff of the authority. This eliminates the error rate of the human invoice.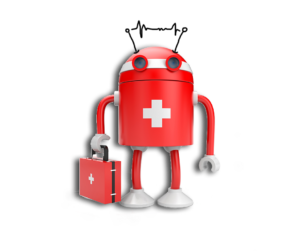 In healthcare, RPA can help, among other things, automate patient records, search for medical history, and test for coronavirus infection. An automated process can make a significant contribution to reducing the time it takes a patient to wait for exams to be received. 
"The big advantage is that RPA is a technology that we can relatively easily implement remotely and therefore help where it is most needed," concludes Victoria Bracjun, adding that Soitron provides assistance in more areas. For example, it can protect hospitals from cyberattacks.
Soitron's offer of RPA assistance is still valid until 30 September 2020, with a potential option of extending it for the duration of the pandemic.